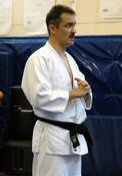 Jim Dempster
Sensei
The GOWA RYU, which translated means "Five Ring System", has been training in Ashford, Kent, since 2004.

It was founded by Jim Dempster, sandan, and has a sister club in Deal, Kent run by Mark Hayes-Watkins, and in Dover, Kent run by Christophe Courtin & Phil Eyers.

Gowaryu Aikido is part of Zen Eikoku Tomiki Aikido Renmei (ZETAR), and therefore conform to the high standards set under the direction of Shaun Hoddy , 6th Dan. ZETAR is a member of the British Aikido Association. As a member of this association the clubs enjoy a great wealth of knowledge and experience dating back over 40 years and regular seminars are held throughout England where the clubs can get together and share their experience of Aikido.
Kenji Tomiki
The style of Aikido taught is principly 'Tomiki', though Traditional and Yoshinkan styles are also explored during the training sessions.
At present we have a fairly diverse level of ability ranging from beginner to Dan level.

All of the coaches are Nationally Qualified to teach Aikido and hold public liability insurance.

Our venues is the Swan Centre in Ashford, Kent.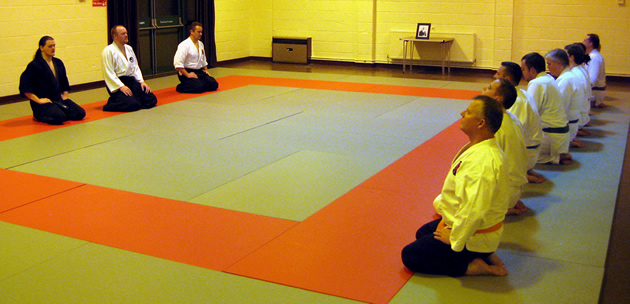 Gowa Ryu Aikido students